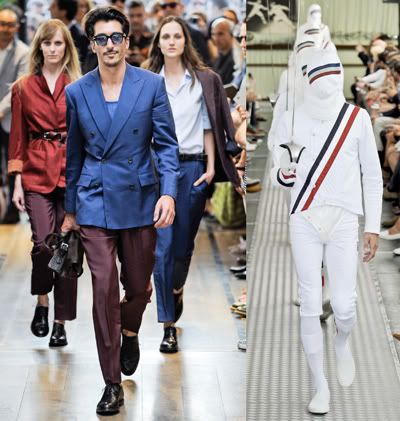 (From left: Trussardi 1911 & Moncler Gamme Bleu)
Day two of menswear and there was a different energy forming already. Tomas Maier opened the day with a political agenda at play for the latest Bottega Veneta collection, inspired by the revolutionary wave of the Arab Spring. Of course the traveller & rocker looks kept emerging, today from Diesel Black Gold, Emporio Armani, McQ & Salvatore Ferragamo. On a more refreshing note, the new energy at from Umit Benan at Trussardi & Alistair Carr at Pringle of Scotland gave these once diming labels a new shine & outlook, though more on Carr later. Benan presented his debut collection at the Piazza della Scala, incorporating a playboy lifestyle to his customer. Give Benan another six months and he'll be at the top of his game.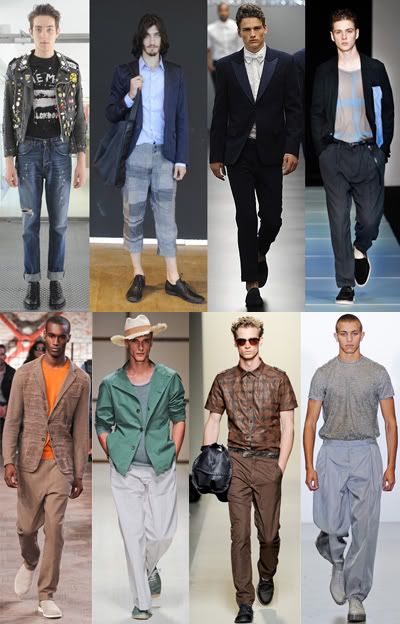 (From top left clockwise: McQ, Diesel Black Gold, Ermanno Scervino, Emporio Armani, Missoni, Salvatore Ferragamo, Bottega Veneta & Calvin Klein)
If there was one concept that seemed to rule the runway today, sport & leisure. Italo Zuchelli gave his interpretation focusing on the fabrics to deliver a sleek minimal look for Calvin Klein. At Missoni, it was playing with the house prints on tracksuits in a traveller-like attitude. The best of sports themes of the day came from Prada, Moncler & Vivienne Westwood.
With the change in creative establishment at Pringle in the past month, Clare Waight Keller having moved to Chloe and fresh out of the Balenciaga waters Alistair Carr stepping in, it was going to be an interesting change. The sci-fi/punk sportswear approach was immediately enforced into the collection, a dramatic change from the more sober luxury you would expect at Pringle. Change is good, it can be hard and only the best can do it- Marc Jacobs, Karl Lagerfeld, Miuccia Prada, Nicolas Ghesquiere have proven to be the masters of seasonal change. The best pieces came from the slim fitting vests in a neon colour-blocking, layered tee's in a static neon print, ribbed sweaters with the touch of colour on the hem, and the elastic leather boots that were part of a collaboration with Puma. It may take time for others to adjust to the change, but I for one am loving it & Carr, and cannot wait to see what he delivers for his womenswear collection in September.
We've had cyclists, hunters and now into his fourth collection it's fencers. Thom Browne is a man who is making the idea of athelticism fashionable in menswear. Clearly their was a futuristic message at play, as Browne played the theme music to Star Wars as models walked down the runway. Even the first look I couldn't help but think of a stormtroopers uniform. From their the designer gave us all-white suits (one matched with a pleated skirt), bombers & pants in nautical stripes, grey plaid suits with groin-hugging straps and a black formal suit with parachute pants. Browne continues to put on a great show, as I imagine he'll do the same next week in Paris for his own menswear line.
Just one more year until the London Olympics, and there is one British designer who seems to be gearing up for the games. For her latest collection, Vivienne Westwood wanted to play on the formal ceremonies that are apart of the spirit of the games- the opening, closing & award ceremonies. The opening looks were a range of tee's with different prints from greek paintings to depictions of infamous photo of Mark Spitz/Michael Phelps wearing their medals. From there, the looks became more formal in a variety of suits that looked like they were made for a bulky athlete. Not the usual designer you'd select to create the uniform for Britain, but maybe Westwood is up for the challenge as I could only imagine she would make something truly tremendous for the British.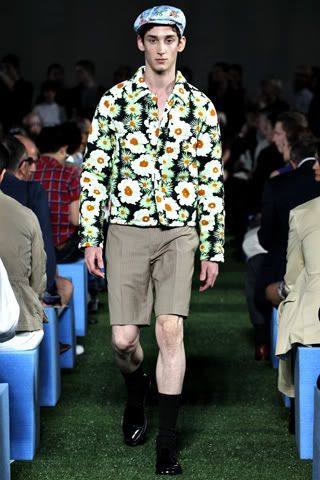 What makes Miuccia Prada such a great designer, her likes are not what form her taste when creating. Her dislikes are also what make her a designer, an artist, and for spring what she loathed the most was golf. Not your typical golfers were on display, a combination of Florida vintage shirts, Jagger-like neck scarves, and hyper bright jeweled loafers. It was simply cool, taking out the vulgarity of prep and making it refreshing. Since I imagine my Prada shoes may never arrive, maybe I can aim for these in the following several months to come.